Warehouse shelving is an essential part of all working environments. It not only maximises efficiency, but it increases productivity and the safety of all workers.
Although warehouse shelving is only one factor which contributes to the effectiveness of a running business, it's certainly one that many warehouses have jumped on board with in order to develop results, increase profits and reduce accidents and injuries in the workplace.
Industrial shelving is specifically designed for heavy-duty environments. There is a range of storage solutions that are used for commercial businesses – let's look at offices, for example. Shelving, furniture, and storage containers are used in these premises, but if you were to place them in a warehouse environment, be prepared to say your goodbyes quite quickly.
It's important to understand the different types of shelving and their strengths within warehouse environments below is a brief guide to help you with your shelving needs.
Pallet Racking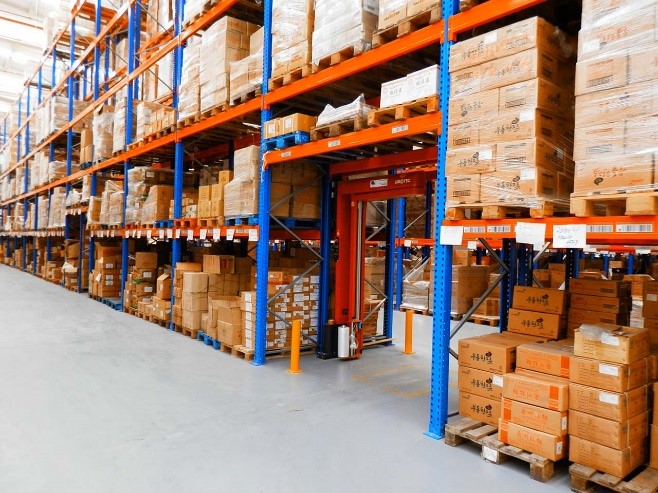 Every business' success depends on how well they can meet the demand of their customers, and this can be achieved through effective planning for optimisation, efficiency, service, and quality. For warehouses, pallet racking systems are used to store heavy goods to ensure the safe running of the company and to reduce expenses and time-consuming tasks. The moving and handling of goods for pallet racking systems are achieved through forklift systems and/or other lifting devices.
These strong and durable racking systems are available in a range of sizes and due to their design, it allows for easy optimisation of storage space. They conform to SEMA and FEM regulations which promote safe design, installation, and use of storage.
Heavy Duty Rivet Shelving
Rivet shelving offers a range of long-term benefits for industrial use. First off, what is rivet shelving? It is a steel shelving system that utilises boltless assembly for easy installation. There are three main types of rivet shelving, with the heavy-duty shelving system being the most ideal for warehouse environments.
These particular warehouse shelving systems are robust storage systems for any applications. They provide incredible support and are extremely versatile and flexible.
Overall, the rivet shelving system is a smart design that boasts quality and simplicity, perfect for warehouse storage needs – whether you're looking to store heavy goods or lightweight goods, it's reliability is one of its major selling points.
Cantilever Racking
Cantilever racking systems are ideally used for the storage of bulky, long and oversized goods which are unable to fit on standard storage systems. Goods can include timber, pipes, plasterboard and lots more.
Cantilever racks use strong bases with arms and braces to safely and securely store products. These particular racking systems reduce handling time for long loads as well as making the stock more easily accessible.
Warehouse Shelving Improving Workspaces One By One
All shelving types are tested in heavy duty, industrial environments to ensure the protection and safety of individuals in the working environment. Having the right equipment in warehouses significantly contributes to the workflow and efficiency throughout the whole floor, so if you're looking to improve and optimise your warehouse workspace, take a better look at the types of shelving mentioned in this article and if you require additional information, don't hesitate to contact us or further browse our site.